5 TIPS ON ENHANCING PRODUCTIVITY WHILE WORKING REMOTELY
October 20, 2020

Posted by:

AFI

Category:

Articles

,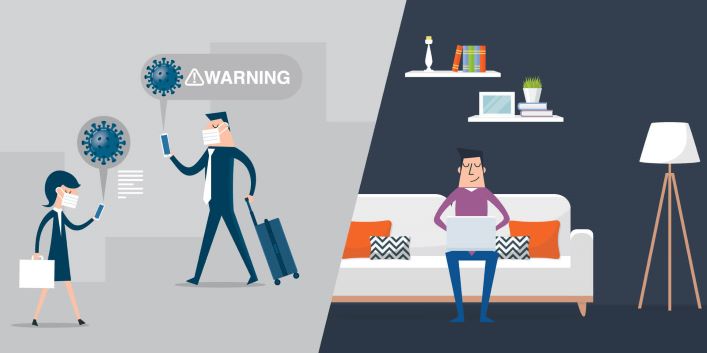 The spread and discovery of new coronavirus cases in Lagos and the world in general has affected productivity in organizations and has caused a decline in global financial markets.
Firstly, what is Coronavirus?
According to WHO, Coronavirus disease (COVID-19) is an infectious disease caused by a newly discovered coronavirus. They are a large family of viruses that cause illness ranging from the common cold to more severe diseases such as Middle East Respiratory Syndrome (MERS-CoV) and Severe Acute Respiratory Syndrome (SARS-CoV).
The outbreak of coronavirus has posed an existential threat to businesses, hence, we are sharing 5 tips to enhance productivity while working remotely, as businesses are now adjusting to the "more electronic contact, and less physical".
Develop a routine
Developing a daily routine can be helpful in terms of productivity and getting things done. Some of such routines are: Waking up early and getting started; have a designated area to be used as a workstation; write out your daily work schedule; have a dedicated time for breakfast, lunch and breaks; make sure your laptop and phones are properly charged; and ensure you have good internet connection. We advise that you figure out a schedule that works for you (and your team), and own it.
Invest in a communication tool
Clear and consistent communication is key for your remote work success. Having a platform/tools where everyone can ask questions, brainstorm, and post ideas is very necessary. There are so many communication tools which can be used, one of which is SLACK. Slack gives you the opportunity to create channels/groups for all kind of activities and groups. Remember you can also include a little fun stuff that can bring everyone connected beyond the daily grind.
Invest in technology
With the right technology in place, team members will be able to access information and work productively. Having easy access to the organizations data, templates, and tools will equip employees to meet set task and objectives. Such technologies are computers, cloud software, virtual meeting rooms etc. 
Develop Self-discipline
While working remotely, it is advised that you develop self-discipline in order to enhance your daily/weekly productivity, some of such decisions are making to-do lists, prioritize, schedule and structure your tasks, avoid distractions, and stay in touch with your team around meeting set objectives.
Stay Safe
It is important to stay safe and healthy during this period. Cancel all non-essential business travel, exercise more often, stock up on food, medication, and necessary house hold items. To further prevent infection, please: 
• Wash your hands regularly with soap and water, or clean them with alcohol-based hand rub. 
• Maintain at least 1-meter distance between you and people coughing or sneezing. 
• Avoid touching your face. 
• Cover your mouth and nose when coughing or sneezing. 
• Stay home if you feel unwell.
• Refrain from smoking and other activities that weaken the lungs. 
• Practice physical distancing by avoiding unnecessary travel and staying away from large groups of people.
Studies are designed for students whose scheduling commitments would otherwise make it difficult to enroll in a full-time higher education program. Offered for individual courses, diplomas, associate's degrees and certificate programs, online studies are a valuable option.