A Report On The Certified Executive Program (Cep2)
October 20, 2020

Posted by:

AFI

Category:

Reports

,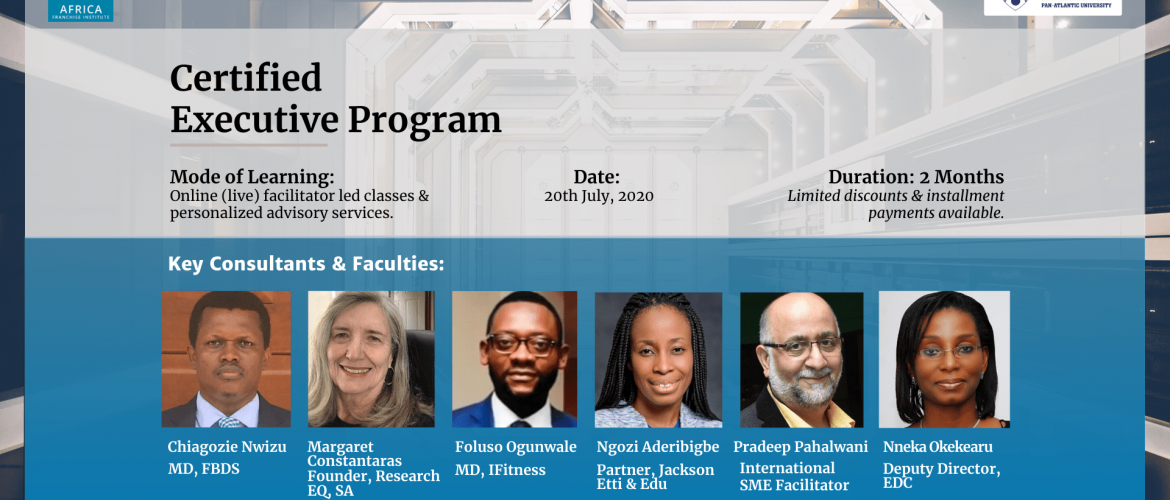 Many successful businesses look for different ways to increase and build their brand presence in a different location, but setting up new outlets can be tricky and relatively expensive for many small businesses today. Franchising has been identified as a major tool for business expansion for both Foreign and Local brands. Most entrepreneurs and business owners crave for business growth and expansion. However, they face challenges trying to scale through the business expansion phase which could be a tough encounter mixed with unpredictable results and outcomes.
As an entrepreneur or business owner, are you currently seeking business expansion and panic-stricken with so many questions with regards to expansion? This update on the Certified Executive Program is definitely for you.
The intensive 3-months program targeted at Business owners seeking expansion, Franchisors, value chain/distributorship entrepreneurs, the management team of franchise businesses, or prospective franchisors commenced on the 20th July 2020 and all classes were held virtually.
The program was highly comprehensive and interactive, as different case studies on successful local and foreign franchise brands alongside with as participants businesses were used during the sessions to understand and re-evaluate their businesses model and strategy, provide support for business standardization, and develop strategies on the packaging and attracting investors/franchisees for expansion. Specialized hand-holding sessions and personalized advisory support were conducted by industry experts to understand the entrepreneurs' expansion plans and provide support to guide them through their expansion phase.
The Certified Executive Program had a concise curriculum containing modules like Business Ethics and Corporate Governance, Intellectual property and franchise regulation, Packaging, Marketing and Attracting Investors/Franchisees, managing people, Project management, Business Strategy, Business Branding, and Business Operation which were facilitated by leading industry experts in their various fields.
Participants of the program can now identify the gaps in their current operations, and proffer solutions to standardize and optimize their business for expansion.
Are you seeking expansion for your business? Join us in our next Certified Executive Program to build, develop, and execute your expansion plan for business growth.