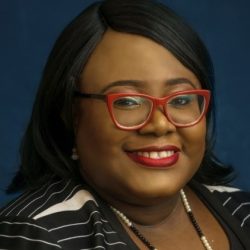 Chinasa is a Senior Associate in the Intellectual Property ("IP") Law, Technology, Media & Entertainment practice group of the Nigerian law firm, Banwo & Ighodalo. She has excellent experience in the field and has advised in numerous local, as well as cross-border and multi-jurisdictional transactions involving brand registration, transfer, commercialization, protection and enforcement particularly in Nigeria and other African jurisdictions. She also advises business owners on regulatory issues with particular reference to their IP rights. In addition, her experience cuts across Corporate and Commercial Law transactions.
Chinasa has a Masters Degree in IP Law from the University of Turin/ WIPO and over 11 years' experience in the field. She has been ranked as a "rising star" (Chambers Global Guide 2018); and as "one to watch" (Chambers Global Guide 2019) in the field of IP in Nigeria.
An author and regular speaker on IP and ancillary issues, Chinasa engages more and more in teaching/ mentoring Nigerian university students and fresh graduates on the importance of IP and Technology in national development. She served as one of the Judges in the 2nd Edition of the Babalola Law Dictionary Competition for Young Lawyers in Nigeria and is a contributor to the Future Africa Forum on Development and Industrialization issues, as well as a contributor to the International Trademarks Association (INTA) Country Guides on Trademarks (for Nigerian Law & Practice). She also co-authored the Nigerian Chapter of the International Comparative Legal Guides to Trademarks (2012 and 2013).
She is an active member of many local and international IP associations including the Pharmaceutical Trade Marks Group; International Association for the Protection of Intellectual Property (AIPPI); the Anti-Counterfeiting Collaboration, (ACC) Nigeria; Intellectual Property Committee of the Nigerian Bar Association Section on Business Law, amongst others. Chinasa has also served of several committees of INTA including the Africa, Middle-East and South Asia Anti-Counterfeiting Sub-Committee (for 2 terms) and Trade Marks Reporter Committee.
Chinasa is a 2014 VVLead Fellow of the Vital Voices Global Partnership and co-founder of the Social & Entrepreneurial Development Initiative (SEDI) Nigeria (a non-governmental and not – for – profit organization in Nigeria aimed at Youth Empowerment and Entrepreneurial Development, as well as the promotion of Social, Cultural and Economic Development).